We're excited to announce our 2nd blog tour of the year!
About the Book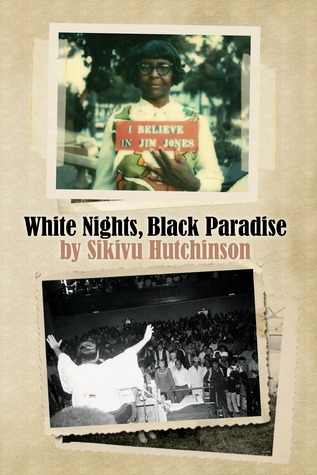 Author:
Sikivu Hutchinson
Publisher:
Self-Published
Publication Date:
November 16, 2015
Genre(s):
Historical Fiction, LGBT+
Page Number:
325
In 1978, Peoples Temple, a Black multiracial church once at the forefront of progressive San
Francisco politics, self-destructed in a Guyana jungle settlement named after its leader, the
Reverend Jim Jones. Fatally bonded by fear of racist annihilation, the community's greatest
symbol of crisis was the White Night; a rehearsal of revolutionary mass suicide that eventually
led to the deaths of over 900 church members of all ages, genders and sexual orientations.
White Nights, Black Paradise
focuses on three fictional black women characters
who were part of the Peoples Temple movement but took radically different paths to Jonestown:
Hy, a drifter and a spiritual seeker, her sister Taryn, an atheist with an inside line on the church's
money trail and Ida Lassiter, an activist whose watchdog journalism exposes the rot of
corruption, sexual abuse, racism and violence in the church, fueling its exodus to Guyana.
White Nights, Black Paradise
is a riveting story of complicity and resistance; loyalty
and betrayal; black struggle and black sacrifice. It locates Peoples Temple and Jonestown in the
shadow of the civil rights movement, Black Power, Second Wave feminism and the Great
Migration. Recapturing black women's voices,
White Nights, Black Paradise
explores their elusive quest for social justice, home and utopia. In so doing, the novel provides a
complex window onto the epic flameout of a movement that was not only an indictment of
religious faith but of American democracy.
Purchase the book here:
About the Author
Sikivu Hutchinson is the author of Imagining Transit: Race, Gender, and
Transportation Politics in Los Angeles, Moral Combat: Black Atheists, Gender Politics,
and the Values Wars, Godless Americana: Race and Religious Rebels and the
novelWhite Nights, Black Paradise. She is a contributing editor for The Feminist
Wire and founder of the Women's Leadership Project, a feminist humanist high school
mentoring program based in South L.A. She has also written and directed a short film based on
White Nights, Black Paradise, which is due in Fall 2016.
Connect with the author!
Here is the blog tour schedule:
October 3, 2016
Spotlight
October 4, 2016
Brooke Banks
Review & Author Interview
October 5, 2016
Ceillie Simkiss
Review & Movie Cast
October 6, 2016
Isabella
Review & Book Spotlight
October 7, 2016
Monica Kelley
Review & Book Spotlight
October 8, 2016
Melanie Barksdale
Book Spotlight
We hope you enjoy all of the blogger's posts!